We appreciate our Community Supporters, your sponsorships help our riders, horses and outreach programs. We have many options for you and your company or organization to participate in. You too can be posted on our arena wall year-round and have your links listed right here for everyone to see, be listed as a Horse sponsor, Rider Sponsor, and Event Sponsor .
Go to "Programs /How you can" help tab for details and forms. Also visit "Meet Our Equine Therapists" to sponsor one of our wonderful horses.
We also actively submit for grants locally and Nationally to fund our programs and future projects. Our goals are to be able to fund our riders 100% per 12 week sessions.
---

The BHBS Legacy Foundation sponsored our Colorado River Boys and Girls Club 2015 Summer Camp. We had a wonderful time learning all about the horse, horsemanship, tack needed and also riding. The Legacy Foundation sponsored 200 children throughout the summer and winter breaks, THANK YOU for your support allowing us to share our wonderful horses with your group. http://clubriver.org/
---
Our generous Rider Scholarship Sponsors: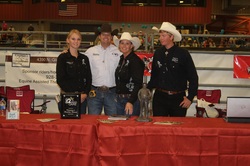 Clinton Anderson's Scottsdale Tour Stop, hosting the Ritchie Ball Toss Charity Event. We were chosen from all the charities entered for the state of Arizona. We are very grateful to have the opportunity to work with their team. We were able to add $1,000 to our scholarship program. We had several additional donations from the event afterwards.. THANK YOU to everyone supporting Kingman's Healing Hooves!
---
In Kind Donations and Sponsorships
---
Banner Board Sponsorships
---