Kassie Schuerr; Founder, Director and Trainer for Kingman's Healing Hooves.
CHA Certified Level 3 Instructor English/Jumping, Western/Gymkana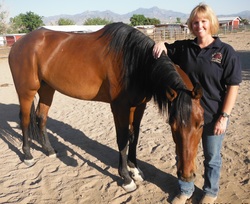 Animal Behavior Specialist with Associate of Science degrees in Animal Behavior, Animal Training and Wildlife Education.
Over 35 years training horses, using techniques derived from personal experience with top equine trainers, horsemanship clinicians and a formal education.
Trained over 15 different species of animals, she has been able to modify the training techniques that have been successful into custom training plans for individual horses and riders.

Founded A-Schuerr-Thing Horse Training And Riding Lessons in 2008 because of her passion to continually improve her horsemanship, and the desire to help others reconnect with their horse in a way that promotes a safe partnership built on respect, trust and love.
She has helped many avid riders come back from serious falls or injuries by tailoring a plan to regain confidence and the love of all things equestrian.
Previously employed by the Mirage Hotel and Casino, Dolphin Habitat as an Animal Care Specialist, worked as a dolphin trainer for 7 years.
Team member on a behavior modification research project with Autistic children that came to the facility to interact with the dolphins.

When Kassie and her family built the facility in 2010 with a local cowboy in mind, who was a quadriplegic, they never knew the path it would lead into. Now they are the PREMIER Equine Assisted Therapeutic Riding Facility in Mohave County and able to help so many that are in need.
---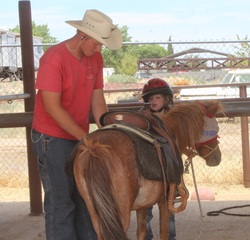 Chad Schuerr; Assistant Trainer, Assistant Barn Manager
Chad has also grown up around horses and is becoming a great trainer.
He is a great role model for our students from the Probation Program to our Horse Camp kids.
Chad is compassionate and looks forward to seeing everyone succeed from horses to kids.
He is a vital member of our team.
---
Volunteers are the backbone of our program and we are very grateful to have our wonderful staff to help cleaning, grooming, exercising horses and helping with lessons. THANK YOU ALL!!!
October 2012 Issue

Kassie's training facility and program was featured in world-renowned Horse Trainer and Clinician, Clinton Anderson's
No Worries Training journal.

---

2013 Women In Business

Kassie has also been featured in the 2013 article
combining her
training, behavior modification to help children and adults with physical and mental limitations, challenges and disabilities.






---