Mohave County's Premier Equine Assisted Therapeutic Riding programs for people with disabilities and home of some of the best equine therapists that have and continue to change the lives of those they touch.
Located in Kingman, Az 928-279-7581
Our mission is to improve the minds, body's and spirits of children and adults with disabilities through equine-assisted therapeutic riding. Joy can heal in so many ways and we strive to help in the healing process for family and friends of the special needs client.

We have developed many programs to help our community in every aspect possible; from therapeutic riding to non therapeutic beginner horsemanship/riding lessons, small groups and team building sessions. We will be happy to help you, your family, and your team members.


HOW HORSES MAKE A DIFFERENCE
For children and adults with disabilities, the equestrian experience is life changing. No other therapeutic recreational opportunity benefits so many aspects of a disability in such a holistic way. Equine therapy has become a recognized method of treating many mental, physical and psychological issues. Equine therapy uses interaction with horses, including grooming and riding, to treat these conditions without the patients feeling like they are in therapy. The movement of the horse best simulates a humans pelvis in motion, which helps to build core muscles and in turn strengthens other muscle groups.


Our story was captured through the eyes of our clients by the Arizona News Channel 12. We have received the "12 Who Care" Award. We are the only facility in Mohave County and the only facility that has a hoist system in the state of Arizona. We are dedicated to helping EVERYONE in our community.
Channel 12 News (June 2014) "12 Who Care" Award for making a difference in our community.

We are a "Proud Partner" with Special Olympics for our County's Equestrian Team. A free program for our Special Olympic Families, with a Horse Show scheduled for May 2015.

Follow all the progress on our Facebook page at Kingman's Healing Hooves
Horse show will be on Saturday May 16th 9-11am at Kingman's Healing Hooves Facility.


---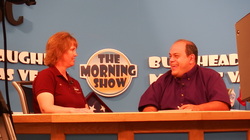 We were very excited to be on The Morning Show broadcast coverage for the Tri-State area. We shared our facility, programs and fundraiser to be held on April 12th and 13th 2014, on TV2KLBC.


---
Follow the link to read reviews about our facility and programs, and feel free to write a review as well. Thank you for all of your support, our clients thank you as well, just by seeing the joy on their faces.--Kassie




---

2013 Organization Of The Year

We were honored with Kingman Az Chamber Of Commerce Andy Award for Organization Of The Year.


---
Privacy Policy

Owner
This website, www.kingmanshealinghooves.com, is owned by operated by Kingman's Healing Hooves Riding Center located at 4390 N. Glen Rd. Kingman, Az. 86409. K.H.H. Riding Center reserves the right to modify or amend the terms of use and privacy policy at any time for any reason. K.H.H. Riding Center is committed to protecting your privacy and personal information.

Kingman's Healing Hooves Therapeutic Riding Center does not sell, rent, exchange or otherwise disclose your information with any group or organization. Personal information provided to Kingman's Healing Hooves will be kept confidential and in a secure environment. Access to personal information will be restricted to only those Kingman's Healing Hooves personnel and only for a legitimate business purpose.

Security
Kingman's Healing Hooves Therapeutic Riding Center uses generally accepted, industry-standard security systems, software and encryption technologies to protect against unauthorized access to K.H.H. equipment and other components of our online presence.