YOU WILL BE PURCHASING A PROFESSIONALLY TRAINED HORSE for a fraction of what you would purchase a horse on line AND THEN needing to pay for training.

"Cheap horses, will cost you more in the long run, esp in E.R. bills".
Make sure you have a horse for your family that is much safer with 60-180 hours professional training, producing a solid foundation.

We have developed an opportunity for our program to receive horses that need a new job, retrain them and in turn have a trained horses for clients. No more taking a chance on craigslist for a "bomb proof", "kid proof" or "perfect project horse" THAT WILL STILL NEED TRAINING. Watch the in depth training that will build a solid foundation and confidence in the horse and the new owners. We have an Open Door policy with our training and you are welcome to come watch the horse you are interested in, during their training sessions.

We also encourage you to ride before you buy any of the horses you are interested in. We do offer a 30 exchange policy on our horses if they aren't the right fit, although we will do our best to make sure you and your family are well suited for your new family member before you leave. I will also be available to answer questions and help with continued training sessions to establish the "buttons" you now have on your horses.

We accept horses (after inspection) from the ages 3-15 who have sound feet, sound mind and able to work. We DO NOT accept rehab horses as the time frame for turn-a-round time could be up to a year.

The FEES for the horses will vary as it is based on the time the horses are in training from 30 days to 6 months depending on each horses progress. A minimum of $1,500 for the first month in training and $1,000 for consecutive months which covers:
50-60 hours of professional training time per month to ensure they are family, child and novice rider safe
Veterinary exam
Teeth floating
Hoof trimming every 4-6 weeks
Vaccinations
De-worming
Feed and boarding.
(Often times we need to increase diets to bring up to a working weight to minimize weight loss with energy increase.)
All horses learn respect and minimize fear through:
Groundwork,
Saddle work
Desensitizing to many objects and situations,
All husbandry and veterinary behaviors trained to minimize sedation
Bathing, clipping and sheath cleaning
Trailer loading
Parade training (if timeframe allows).
Beginner riding lessons with clients

We work in the arena, out on the trail, and if possible we will also educate the horses in a show and parade setting. THEY HAVE A SOLID FOUNDATION to move into any direction and discipline.

Once the horses are ready to leave the program, they will be posted on our facebook page, along with our sister training page at A-Schuerr-Thing Horse Training.
The total fee is a tax write off for you as the donor for the sponsorship of the 3 (or multiple) months while the horses are in the care of Kingman's Healing Hooves. As a sponsor and new horse owner, YOU WILL RECEIVE a tax deduction letter and you will be a vital part of our program, putting funds back into the horses which are the backbone of our program..

It is a WIN-WIN-WIN opportunity for horses needing a new job, families looking for a respectful, non-spooky horse, a willing equine partner and Kingman's Healing Hooves will benefit with proceeds going directly to the horses. The training program can be followed on A-Schuerr-Thing Horse Training on Face Book under Albums, or on our website at www.aschuerrthinghorsetraining.com to see our detailed training program. Youtube videos at www.youtube.com/channel/UCyND6VSnXTtqGsyXdE-24mA
SOLD!!!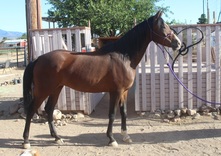 Angel is an Arabian mare approximately 11 years old, standing at 15.2 hands and weight taped at 950 lbs. She has been professionally trained and has a solid foundation and a "3" temperament.
She is very people oriented and loves to be around children while she is ridden in beginner lessons, takes care of special needs riders, and participated in our Special Olympics horses show. Angel has been trained and desensitized to MANY situations and obstacles including an extreme obstacle course, large backhoe, city traffic, motorcycles, and daily construction noise to make her a safer choice for your family. She has also been trained to round pen, longe both directions at all 3 gates, Parades, along with liberty work and LOVES exploring the trail with a potential as an endurance profession.
She stands tied, ground tied, cross ties, she can be clipped, bathed, hoof trim with grinder on hoof walls, and vacuumed without any issues. She rides well in a snaffle, bosal and halter, under western or english saddle and bareback.
She is currently on a 5 week barefoot trim schedule and has very strong feet, u.t.d. on all vaccines, worming and annual teeth floating.

Angel has not been used in any major discipline, therefore not broken down nor used up. She is ready to progress into any direction you are interested in and has the desire to learn. Her full training album and videos can be found on our website.

Your purchase is a tax deduction, Kingman's Healing Hooves is a 501 (c)3 organization, and all proceeds go right back into our Equine Therapy Program Horses.

Her current fee is $6,500 tax deduction reduced from $8500.
---